■

IWASAWA ARIMICHI
about this artist IWASAWA A MR.
■■ DATA C.V.
1958 ◼ Born in Kyoto Japan.
1981 ◼ Graduated from graduate school of Kuwazawa design college. (Tokyo)
1989 ◼ Graduated from B-semi school of contemporary art. (Kanagawa)
Solo exhibition ( now a days )
 2018 ◼ Gyodong Museum of Art (S.Korea)  ◼ 2kw Gallery(Otsu)
2017 ◼ Gallery ESPACE (Nagoya)  ◼ Orie Art Gallery (Tokyo) 
2016 ◼ Gallery Gen (Tokyo) 
2015 ◼ Hebel_121 (Basel.Swizerland) 
2014 ◼ Oita municipal gallery (Pro:OPAM) 
2013 ◼ Gallery SUZUKI (Kyoto)  ◼ Gyallery Ashiya Schule (Hyogo) ◼ GYO DONG ART MUSEUM (Korea) 
2012 ◼ Nagi MOCA (Okayama)
2011 ◼ Gallery Gen (Tokyo) 
2009 ◼ Gallery CASO (Osaka) 
2008 ◼ Igong Gallery (Daejeon/S.Korea)  ◼ Gallery Suzuki (Kyoto)  ◼ Gallery Gen (Tokyo)  ◼ Gallery CASO (Osaka)
2007 ◼ Gallery Gen (Tokyo) 
Group show (now a days)
2021 ◼ UNEASINESS 17 (AOSE / Hita city Oita)   
2019 ◼ SPIRAL (Oita City / Pro.Suga Akira)  
2018 ◼ UNEASINESS 16 (NAGI MOCA / Okayama)  ◼ ART de MEAT Nagi (NAGI MOCA / Okayama) ◼ Gyodong Museum of Art + Art Group ATTI + UNEASINESS (Gallery KITANOZAKA / Kobe) ◼ GENZAITENN (Nijyou Castle / Kyoto)  ◼ OPAM TOSHIOKA COLLECTION (OPAM / Oita) ◼ International Life through art Recycling story 2018 (Gangneung Arts Center / S.Korea) ◼ Imaga aru ( Nijyo castle / Kyoto)  
2017 ◼ ART de MEAT Nagi (NAGI MOCA / Okayama)  ◼ OVER THE CANNEL (GYO DONG ART MUSEM / S.Korea)
2016 ◼ ADORING CONTEMPORARY ART(Oita Prefectual Art Museum) ◼ UNEASINESS 14(2kw Gaalery / Osaka)◼ UNEASINESS 15 (Gyo Dong ART Museum / Korea)  ◼ AOSE opening exhibition (Hita city / Oita)  
2015 ◼ UNEASINESS 13 / Ashitani, Iwasawa, Osawa and Matsutani Hiroko (2kw Gallery / Osaka) ◼ CHINA KOREA JAPAN ART EXCHENGE EXHIBITION (College of Art Northeast Dianli University, Jilin Province, / China) 
2014 ◼ Art aquarium (OOYA ART LABO / Hyogo)  ◼ Four Artist Exhibition (LA ARTCORE GALLERY AT BREWERY ANNEX / Los Angels U.S.A.)  ◼ UNEASINESS 12 (2kw gallery / Osaka)
2013 ◼ Shinanobashi Gallery Collection(Hyogo Prefectual Museum)◼ Golbang Art Film Festival (Koraea) ◼ UNEASINESS11 / Ashitani, Iwasawa, Osawa & Nishikawa Shigeru (2kw Gallery / Osaka) ◼ UNEASINESS & HICA (Gallery Kitanozala / Kobe) 
2012 ◼ Thailand - Japan Sculpture Symposium 2012 (Chang Mai University Art Center / Thailand )  ◼ Hungary and Japan contemporary art exhibition 2012 (Gallery Kitanozaka/Kobe) ◼ Project Daejeon 2012 : Energy(Pro:Daejeon city Museum / Korea)  ◼ HICA & UNEASINESS (IGONG GALLERY / S.Korea) 
2011 ◼ MIZU VIZ / WATER (The collection of local history of ferencvaros - A38 gallery / Budapest Hungary)  ▶ youtube
2010 ◼ HUNGARY and JAPAN EXCHANGE EXHIBITION (Gallery Kitanozaka/Kobe - KYOTO ART CENTER)  ◼ OVER TONE Ⅱ (KANAGAWA PUBLIC HALL GALLERY / Kanagawa) ◼ UNEASINESS X / Masato Asitani
■

 What do we ponder in our hearts ? 

■

 

I will give another try at questioning the social role of art. We are already in the 18th year of the 21st century. I have asked the question --"What is the difference between 20th and 21st century for you?"- to the people around the world, none of them has given me a clear answer which I had expected. In the past 18 years, all of them shared that they felt something was wrong; they could not have high expectations; they had a feeling of loss, but nevertheless they are climbing up one step at a time. That is how I would sum up the people's responses. It made me realize that it was a fortunate thing that I was an artist. We do not have such booming days, but we neither have a terrible depression in the Art World. 


The artists of younger generations think differently from the artists of my generation. All these artists are competing with each other in an effort to survive. However, if we cannot put to good use the knowledge we build up and nurture,and find joy in a variety of things, we cannot go forward. Let's say that we have a stupendous file in our head, and all the memories of everything we have seen so far have been stored in it. I imagine the memories of many art works have been stored in the brain of an art lover. When he sees my work for the first time, he immediately starts looking in his file for a work that resembles it. Sometimes the process takes time. While searching in the file continues, the process of recording the new item goes on at the same time. As a matter of fact, this is a blissful moment for an art lover. Encountering an excellent piece of art is quite smoothing because this procedure that goes on in our head is so pleasant and delightful. When people encounter fine art work, people experience agreeable sensations like going into a warm bath, which all Japanese should understand. Bliss happens because the brain is activated at that moment. As an artist I aim to create works that can do that. That is what I can do as an artist. An encounter for me happens when I can travel instantaneously from the time when the earth was created 4.6 billion years ago to the current moment in which I am living, and from the time an artist of the past lived to the future. When Ican do that in my imagination, that activates my brain.

2010 I visited Paris for the first time in 25 years,and saw the Luncheon on the Grass of Edouard Manet.I wonderd what sort of year 1862 was for Manet as a backdrop for this painting, and what thought he had when he created this piece of art. The time for this musing was a pleasant moment for me. What flows within me is exactly the same as what is in all of you: numbers and world dictated by time. Wonderful encounters with something I have not yet seen may await me. There is an inexhaustible pleasure. All the encounters could contribute something positive to my work. Such belief encourages me to keep on trying. What does a wonderful work of art look like to you? 

Of late, moving images are always included in the exhibitions organized by contemporary museums. It used to be 16mm or 8mm silver salt films, or Bata and VHS tapes. They were replaced by computer, DVD, and Blue Ray. The equipment has changed from cinema projectors and cathode-ray tubes to slide projectors and thin monitors. Displayed works, too, have changed from still pictures or statues to flashing works or moving ones in response to the movement of viewers. It is my view that all this change is ascribable to the incredible speed of internet which was developed with great speed in the 21st century. In the 20th century, what used to be telephone network evolved to ISDN, ADSL and then to optic fiber. As a result, complex moving pictures could be seen smoothly without a hitch just like looking at DVD images. Viewers now demand comfortable speed in anything just as fast as their fingers can tap the keys. Instead of stopping in front of a stationary object, viewers are used to walking about to observe,and when they encounter a moving object they stop and watch. This seems to me a typical attitude of viewers at a recent exhibitions. However, as I started my work from flat paintings, I have the highest concentration when I draw. When I work on paintings, I take account of recent trends, and make it a rule to provide some kind of optic illusion and games. There is a change in the trend, too. Take the automobile industry, for example. It has been competing to make fast cars, but now it is manufacturing quiet electric cars. It is also important to reevaluate the good points in old things. Such a viewpoint is also valuable. From now on, I hope to create works that can remind people how important it is to think about things slowly and leisurely. I would like to do so side-by-side with my work on creating moving images.  

Iwasawa Arimichi
"The most famous bicycle in art history"
■

Talk show text 1./ 2./ 3./ 4./ 5./ 6./ 7.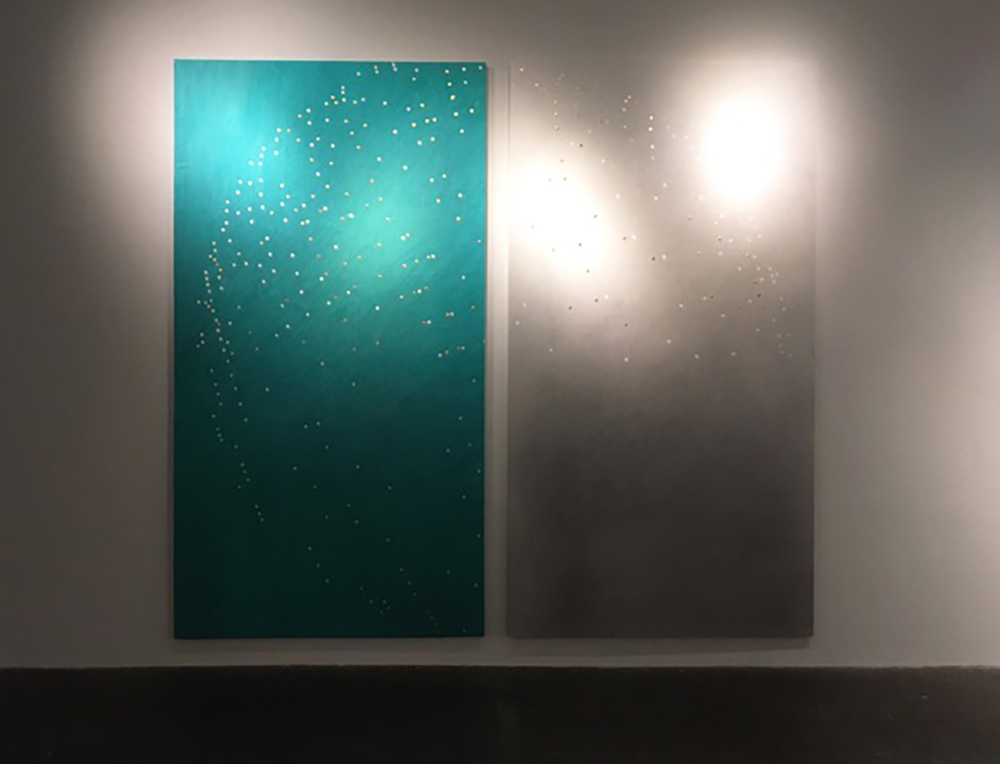 2018
◼

"No.210818" at Contemporary Art Space Osaka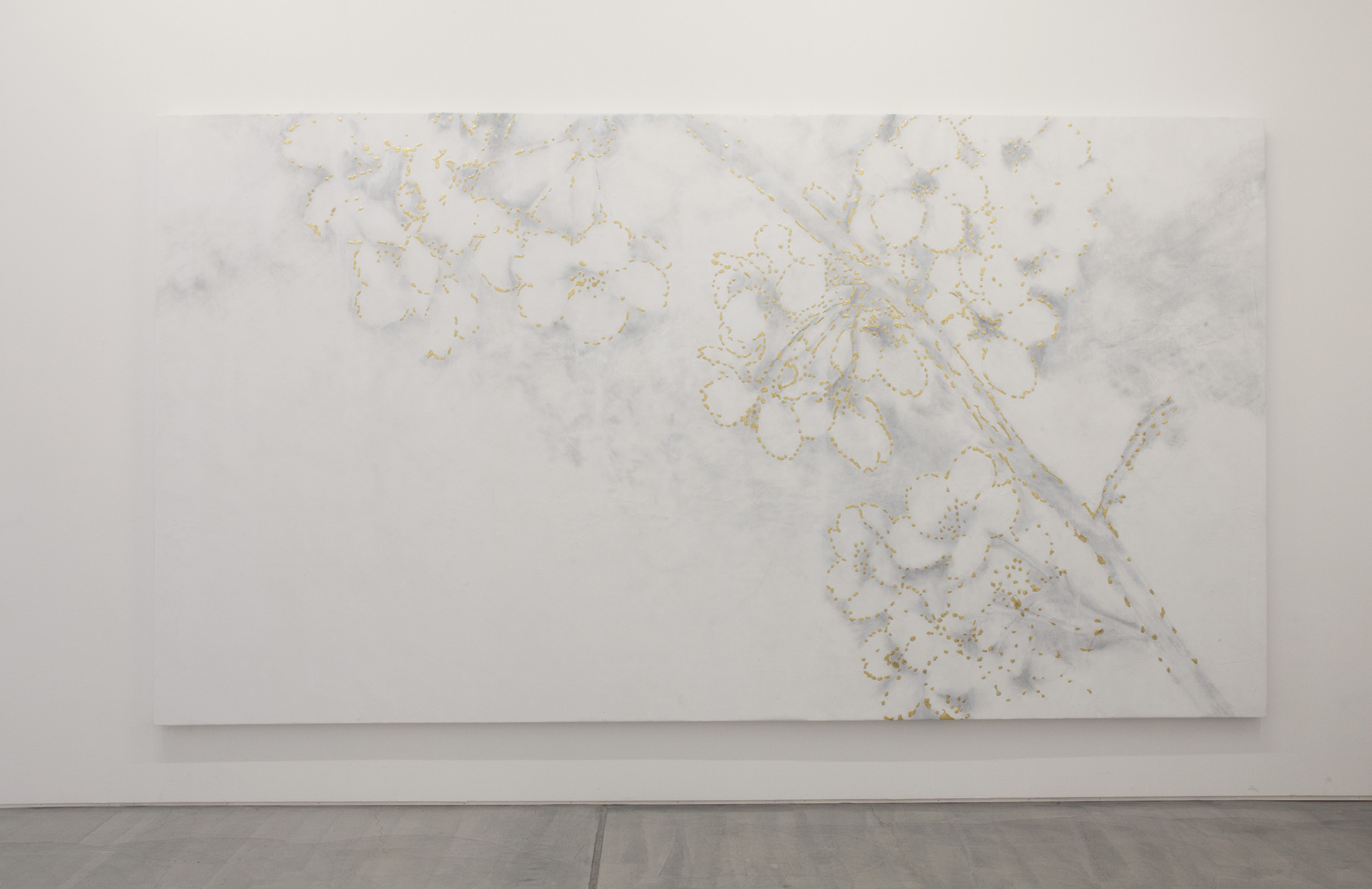 2018
◼

 "Cherry blossom" at 2kw gallery, Otsu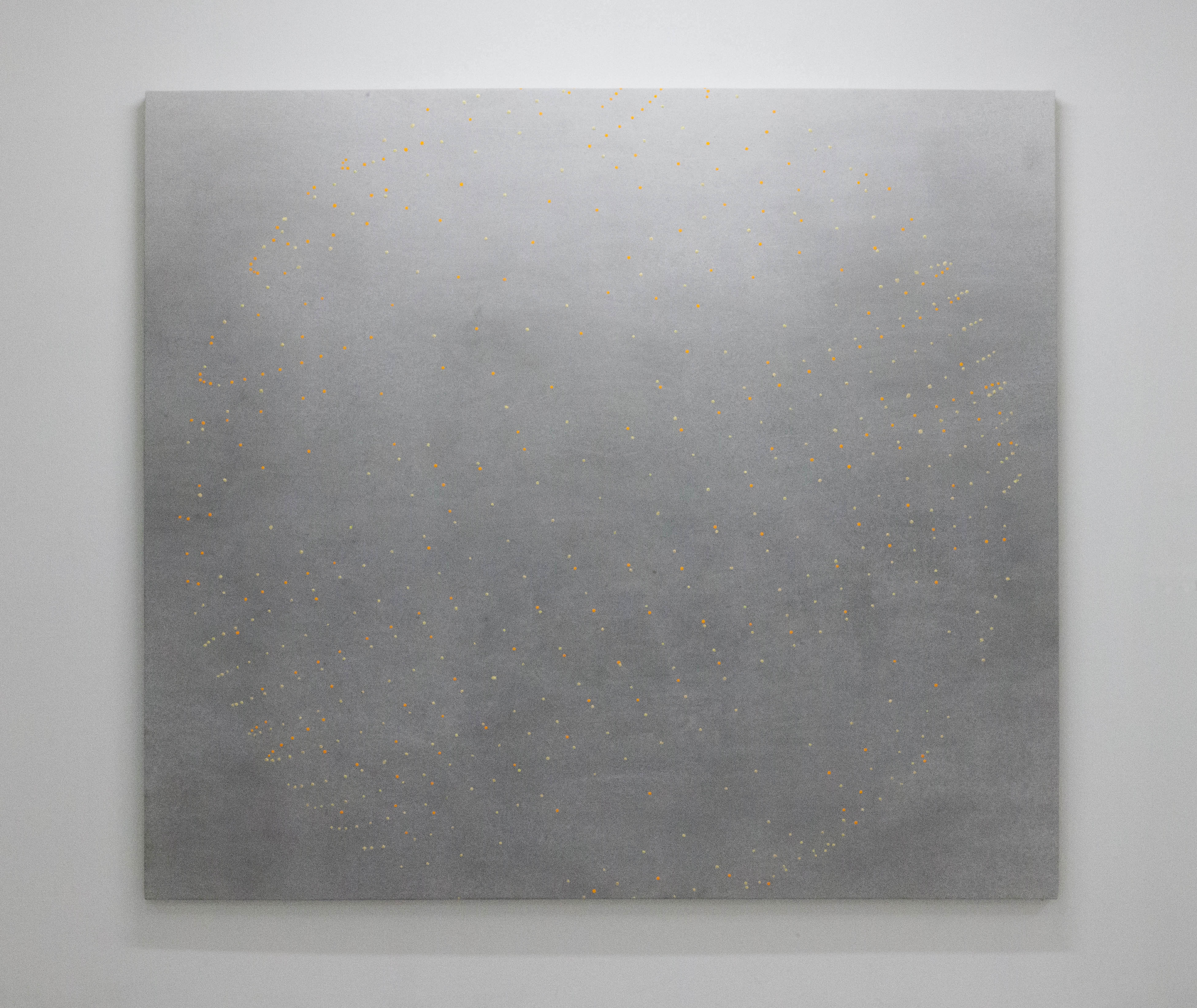 2015
◼

 "No.030515-A" at 2kw gallery ,Osaka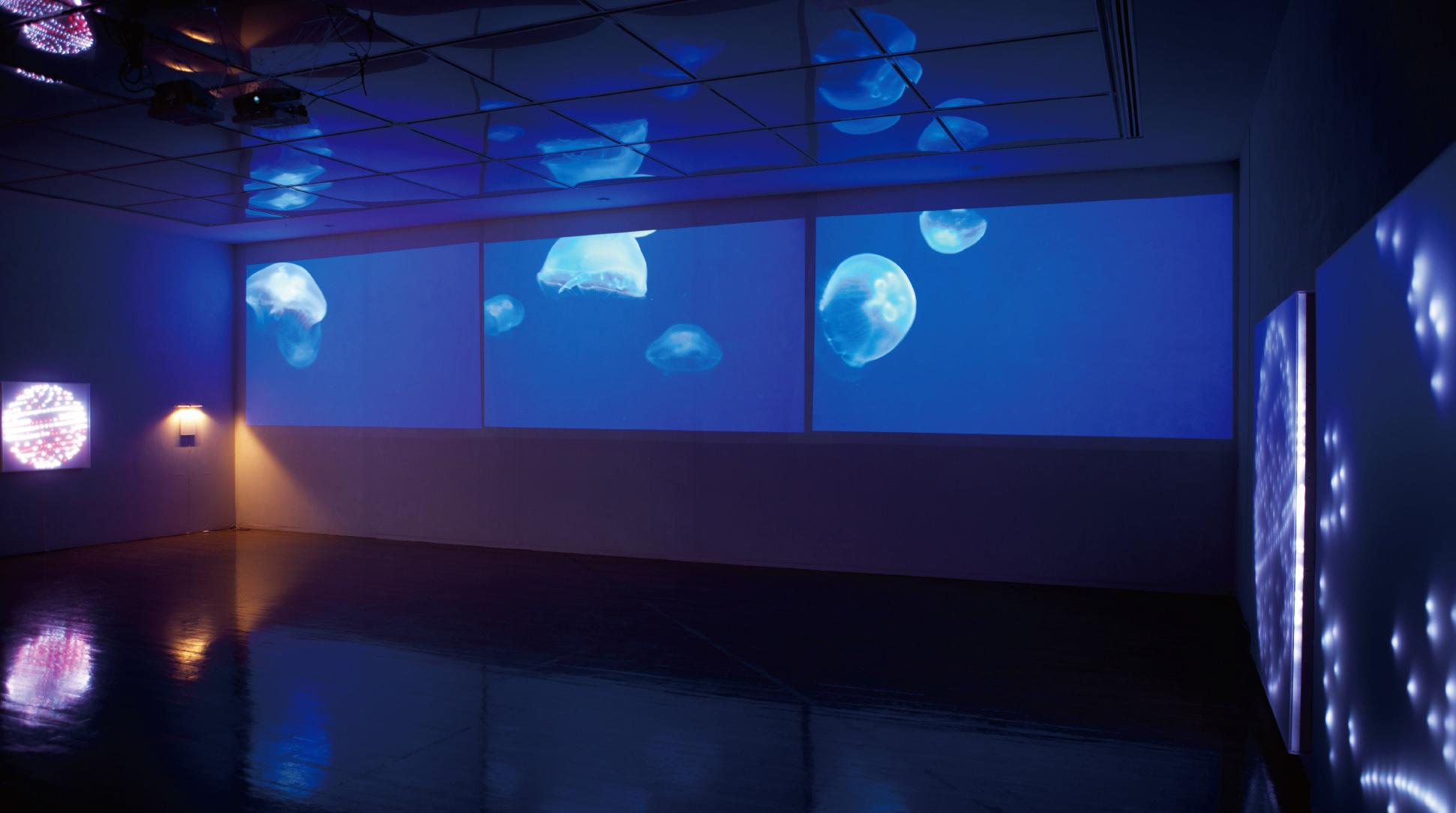 2012
◼

"to the cosmos and future far away" Nagi Museum of Contemporary Art, Okayama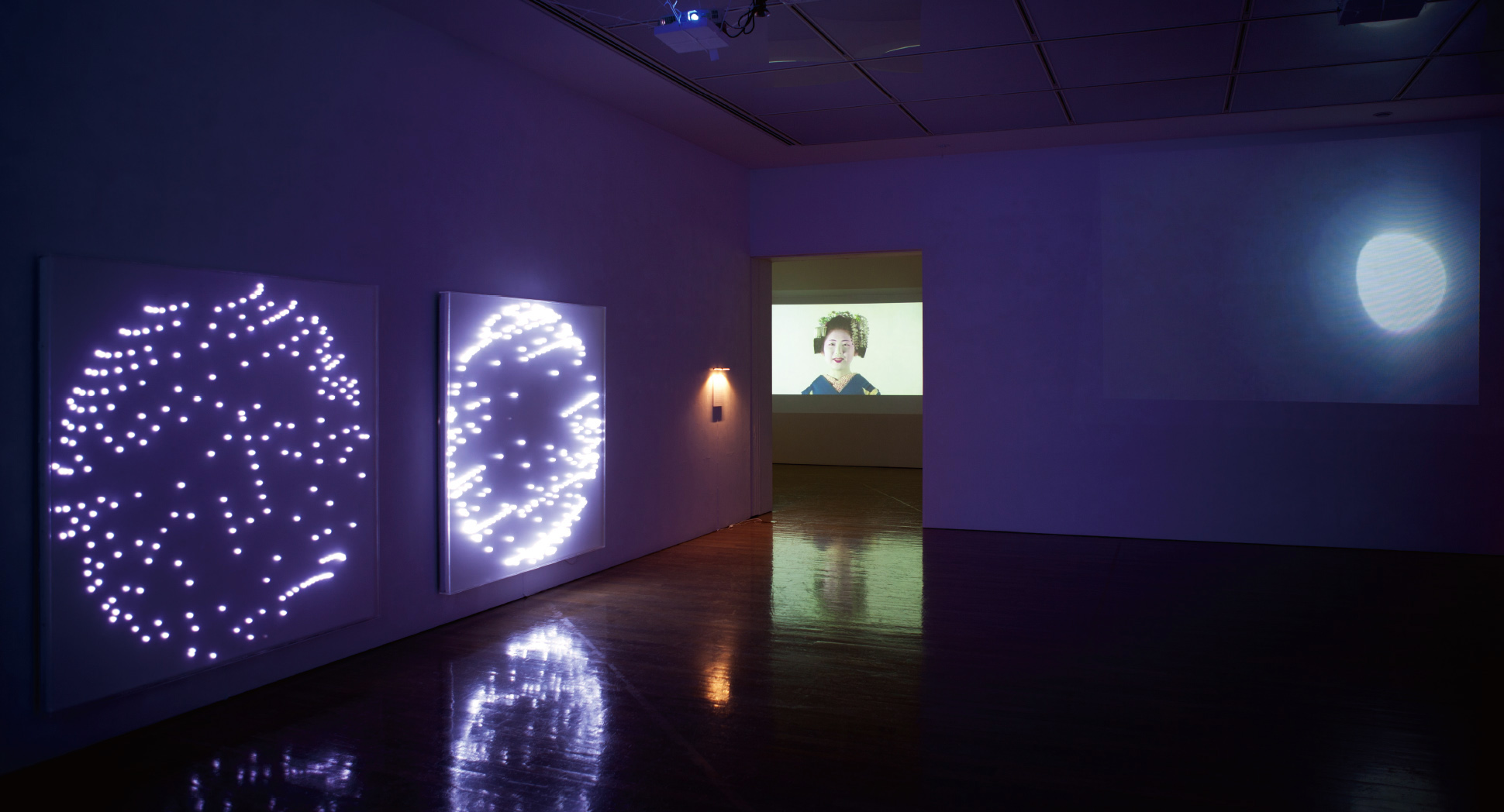 2012
◼

"to the cosmos and future far away" Nagi Museum of Contemporary Art, Okayama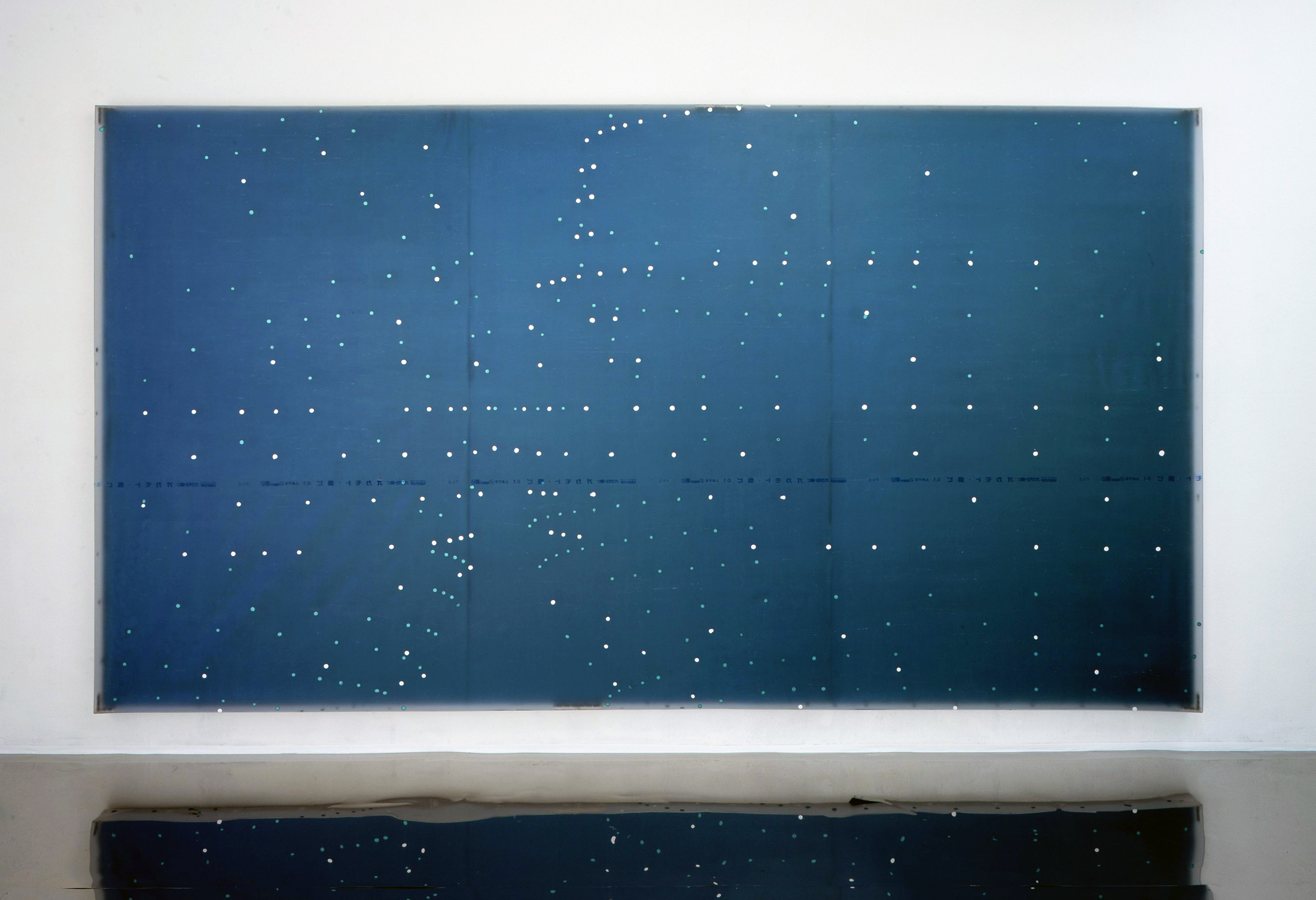 2007
◼

"No.030407-A" at Gallery Gen,Tokyo
CITY GALLERY 2320